Dental Implants
Before
After
Chief Concern: Dental trauma on the anterior teeth, missing teeth, old amalgam fillings.
Before
After
Treatment plan
Stage 1 - Restoration on upper and lower teeth
Stage 2 - Crown preparation
Stage 3 - Implant placement
Stage 4 - Measurement
Stage 5 - Crown insertion and bite alignment
Implant placement to cover the gap
Crowns on the chipped teeth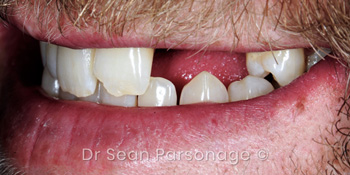 Before
After
Results | Functional teeth and extra support for the upper lip
Full upper arch rehabilitation involving fillings, crowns and implants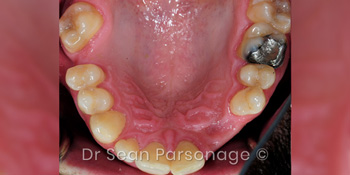 Before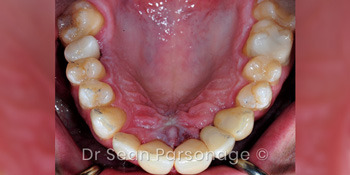 After
We have had numbers of patients that came to our practice due to a dental trauma caused by various incidents such as sports injury, falling, work accident, etc. Just like any accident, people's life could change in matter of a split second whether it is a severe or non-threatening condition. Full mouth examination has to be done including a TMJ (Temporo-mandibular Joint) assessment to check if there is any inflammation on the jaw joints. Sometimes a patient is sent to do a CT-scan for further investigation. After all the assessment, a treatment plan is discussed to reconstruct what has been damaged.
Ben had been such a delightful patient since he first came into the practice. Giving him back the full smile that he deserves was our mission. After a comprehensive assessment was taken on the initial appointment, we decided to do all the dental treatment while he was visiting Australia. We were glad to have him here and to send him back home in Britain with a brighten smile.
Before
After
Before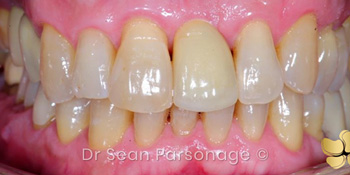 After